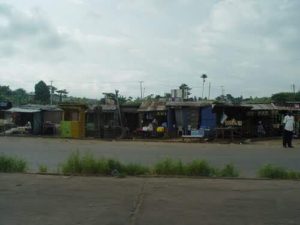 The upcoming NAS Medical Mission holds as follows:
Date: Friday November 3, 2017.
Location: Ilodo community , Ogun State, Nigeria
Ilodo is a community within Ijebu East Central Local Council Development Area (LCDA). It is located off the Benin- Sagamu Express way ( A121 Highway), around the Ijebu Ode axis, about 110km by road North East from Lagos.
It is a community with an estimated population 5,196 (2006 census), with adjoining catchment settlements.
Ilodo has a Health Centre, commissioned since 1985 and financed by its indigenes, the first community in Ijebu Imusin to acquire that feat by its indigenes with support from the the State Government. It is also the first community in Ijebu East and Ogun Waterside to have Electricity. It acqiured this feat since 1972.
Famous tourist attraction in the adjoining vicinity is the Otunba Dipo Dina International Stadium ( formerly Gateway Stadium) in Ijebu Ode.
Ilodo is a semi rural settlement headed traditionally by the Ogirimadagbo of Ilodo, Oba Engr Isiaka Olajide Ajede. It has a rural economy dominated by Farming, fishing and petty trading.
Scope of the NAS Mission:
The NAS Free Medical Mission will cover treatment of common ailments like Malaria, Respiratory Tract Infections, Hypertensive heart diseases, Diabetes etc . Eye test will be conducted by optometrist and corrective eye glasses dispensed. There will be Immunisation and mass deworming of all children, distribution of Insecticide tested Nets (ITNs), Wheel Chairs and Crutches to patients in need of these medical devices. Laboratory investigations will be carried out by our team of laboratory Scientists.
NAS Transit Ambulance will be deployed for transportation of patients in any emergency beyond the scope of the mission.