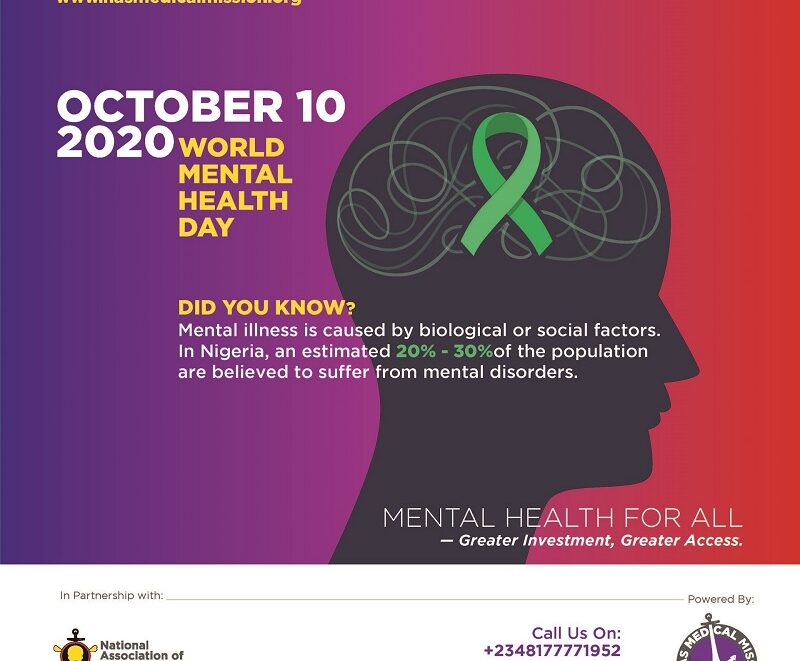 TIME FOR NIGERIA TO INVEST MORE IN MENTAL HEALTHCARE

PRESS RELEASE
Today, 10 October 2020, the world observes the World Mental Health Day, with the theme, 'Mental Health for All – Greater Investment, Greater Access.' Observed first in 1992 as an initiative of the World Federation for Mental Health, the Day has since served to draw attention to some pertinent issues in mental health worldwide: mental health education, increased awareness, and advocacy against social stigma.
This year, the peculiar social architecture of the ongoing COVID-19 pandemic serves to further highlight the interconnections between mental health disorders, physical health, and the general condition of the society. The impact of the pandemic has exposed the deep inequalities, ignorance, and deepening levels of neglect and poverty experienced by many, causing further mental distress and vulnerability. This sad situation is felt more starkly in low and medium-Income countries such as Nigeria where there is an urgent need for increased workforce of consultant psychiatrists, psychiatric nurses, and psychosocial experts. 
This World Mental Health Day, the National Association of Seadogs (Pyrates Confraternity) expresses its deep concern on the extremely low awareness about mental health in Nigeria. According to the World Health Organisation, Nigeria has the highest caseload of depression in Africa "and ranks 15th in the world in the frequency of suicide." 
Poor knowledge of mental health problems accounts for the increasing incidences of drug abuse, resulting in self-inflicted mental injuries, which ordinarily builds up from neurosis to psychosis. 
Unknown to many, mental illnesses include mood disorders (such as depression or bipolar disorder), anxiety disorders, personality disorders, psychotic disorders (such as schizophrenia), eating disorders, trauma-related disorders (such as post-traumatic stress disorder), developmental disorders, and substance abuse disorders. The telling effects of these outcomes include, but are not limited to, high costs on the health system, impaired functioning and lost worker productivity, personal stigma, caregiver burden on family members, and human rights violation. 
As the world marks this year's Mental Health Day, the National Association of Seadogs (NAS) has lined up robust mobilization and sensitization advocacy programmes geared towards creation of stakeholder/public awareness on the health needs of citizens, provision of comprehensive, integrated and responsive mental health and social care services in community-based settings. Other activities to mark the day would include public education, free healthcare services by our healthcare professionals and experts, road show, and distribution of relevant literature. 
The campaign would also include raising awareness on the need for statistical data on mental health administration in Nigeria, canvassing measures for the improvement of mental healthcare services, and the urgent need for stakeholders to scale up provision of a healthier and safer workplace that takes into consideration the occupational hazards for mental healthcare staff on the frontlines. 
In line with this year's World Mental Health Day, NAS advocates that:
It is important for stakeholders in the country's mental healthcare sector to appraise, review and apply all international protocols in the nation's mental health care administration. 


In accordance with WHO guidelines, the Nigerian government should strengthen leadership and governance systems for mental health and social care and implement concrete strategies to promote mental health.


There is a need for the government, as a matter of urgency, to consider the establishment of six new federal psychiatric hospitals within the six geo-political zones of the country.  The current 8 federal government owned neuropsychiatric hospitals are not adequate to take care of the mental health care needs of her over 180million population. 


The State governments must collaborate with the federal government to integrate mental health as part of the primary healthcare services within each State.


There should be an accelerated transition to mental healthcare in the community, with increased investments in the training of more specialists, and psychiatric wards, especially in general hospitals. Failure to invest specifically in mental healthcare services as a matter of urgency has huge health, social, and economic costs.


Governments at all levels and every concerned individual or group must scale up advocacy on mental health education to raise awareness and reduce social stigmas.


The Federal Ministry of Health must collaborate with security agencies to move round available local and government mental health institutions in the country to discourage chaining of people with mental health illness, unshackle all people restricted with manacles and encourage the use of straitjackets in their stead, where necessary.
Let us be our brother's and sister's keepers by discouraging stigma and working collaboratively to improve mental awareness in our communities!
Signed:
Abiola Owoaje
NAS Capoon
Abuja, Nigeria