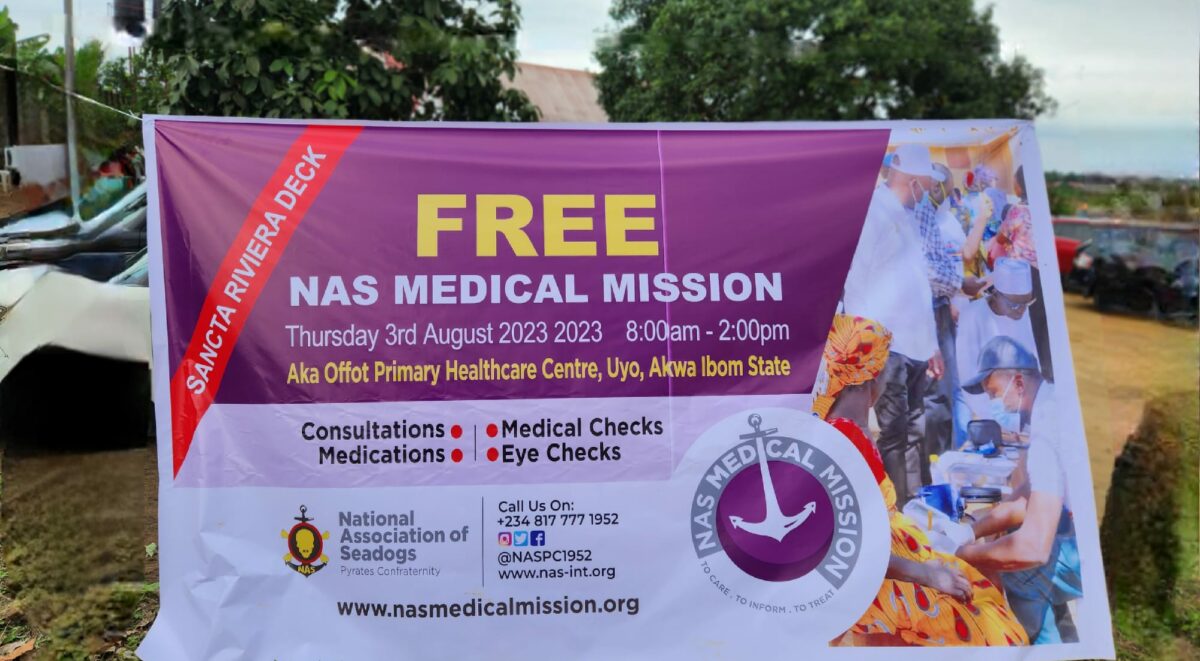 The NAS Medical Mission (NMM) for Quarter 3 2023 was held at Aka-Offot community in Uyo Local Government Area of Akwa-Ibom State, on the 3rd of August, 2023.
Scoping
Aka-Offot community has an estimated population of about eleven thousand (11,000), situated about 5.2 km from the State Government House and covers an area of about 460 square kilometres. The main occupation of people within the community are factory work and trading. There is a community primary and secondary school in addition to the primary healthcare center (PHC).
Prior to this medical mission, the water storage and bore-hole systems were damaged. Both have been rehabilitated by volunteers of the National Association of Seadogs, Sancta Rivera Deck – Uyo, in other to make available clean and potable water for the PHC.
Prior to the medical mission, the NMM team held an interactive session with the executive secretary of the state primary healthcare board and the leadership of Aka-Offot community.  Social Mobilization and engagement of members of the community was carried out days before the mission, which contributed to the high turnout of residents. The elders of the community were out early at the venue to flag off the medical mission.
The Medical Mission
Over 300 participants were seen, including children and adults (male and female). Those with visual issues were seen by the optometrists and more than fifty (50) prescription glasses were dispensed free-of-charge to the patients.
Patients with long standing conditions were reviewed, counselled and also told to continue their follow-up at the tertiary institution within the state.
Majority of the children seen were dewormed after parental consent and their parents/guardian educated on the importance of Deworming, good hygiene and immunization.
The mission came to an end at 4.30pm, after every registered participant was consulted.
The medical team included:
10 Medical Doctors of different specialties (home and diaspora based)
5 Nurses
3 Pharmacist
3 Laboratory Scientists
1 Optometrist
Demographics
SUMMARY
The host community welcomed and appreciated this medical mission
Children accounted for the highest age group seen; those under 5 years accounted for 10.2% of the total number of patients seen
Females were the highest gender group seen; more than double the population of male patients seen
Malaria and Hypertension were the highest morbidity seen, which may be due to the endemicity, dense population, environmental issues and socio-economic status of individuals in the community.
About 86% of children seen were dewormed
A carton each of deworming medication (Albendazole) and multivitamin for pregnant women was donated to the primary healthcare center to be distributed freely for patients that will require them.
Here are some pictures from the event