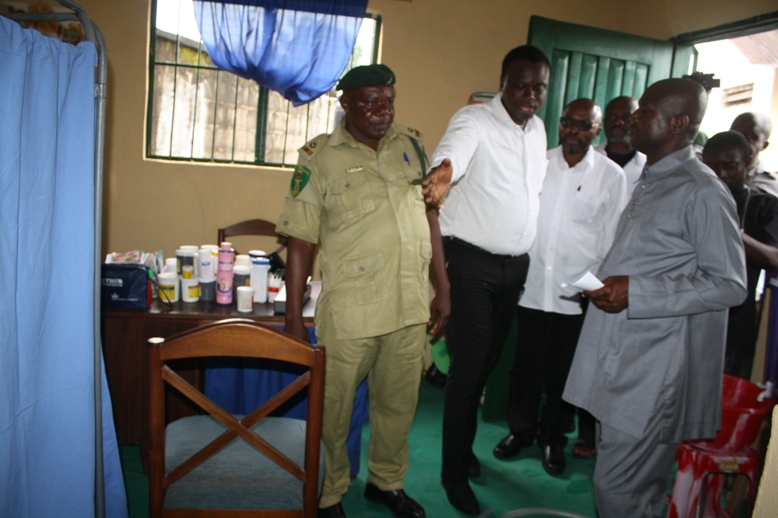 The Nigerian Prisons Service has commended the National Association of Seadogs a.k.a Pyrates Confraternity for blazing the trail towards the upliftment of mankind especially the needy and less privileged members of the society.
The commendation came at the weekend when the agency took delivery of the keys to a Psychiatric bay built and equipped by members of the Pyrates Confraternity, Aba Chapter.
According to Mr. Francis Kalu, a deputy Controller who represented the Abia State Controller of Prisons at the handover ceremony, the association by the humanitarian act of seeking to improve the stay of mentally-challenged inmates of the prisons have set an example for other voluntary agencies to emulate and commended the leadership of the association for making the welfare of others a priority project of the association.
He bemoaned the environmental degradation under which the inmates are subjected to even when most of them are victims of circumstances and regretted that government alone cannot cater for the welfare of prisoners.
Also speaking at the ceremony, the Deputy Controller in charge of Aba Prisons Mr. Emmanuel Maduako said the gesture by the association will remain indelible in his mind. The DCP who said he assumed duties two months ago narrated how he met a decrepit sick-bay that posed a great challenge to the health of the psychiatric inmates as well as the safety of the medical personnel attached to the Prisons.
While he disclosed that the agency is no longer saddled with mere incarceration of convicts but goes further to rehabilitate them for easy reintegration into the society upon discharge, he noted that the records he met on assumption of duty show that Seadogs have remained steadfast in their commitment to the welfare of the inmates. He stated that the only computer in the rehabilitation centre of the Prisons was the one donated by NAS in 2007.
Earlier in his address while handing over the sick-bay, the Deputy President of NAS (International) Mr. Abiola Owoaje, who led other officers of the association represented the President, Prince Ifeanyi Onochie, thanked the officials of Aba Prisons for a wonderful reception extended to members of NAS.
According to him, the gesture demonstrated by the association was an aspect of its mission-statement which is geared towards uplifting mankind. In his words "ours is to uplift mankind anywhere we find our selves and since our chapter here has identified this challenge we will tackle to ensure we overcome. This is part of the things we do for humanity". He challenged the cost officers incharge of the Prisons to ensure that the benefits from the intervention are enjoyed by the inmates.
Also speaking at the event, acting President of Aba Chapter of NAS,  Mr. Christopher Chijioke said that his chapter aside from the sick bay it has donated , is also rendering pro-bono legal services to six inmates of the Prisons still under awaiting trial.‎