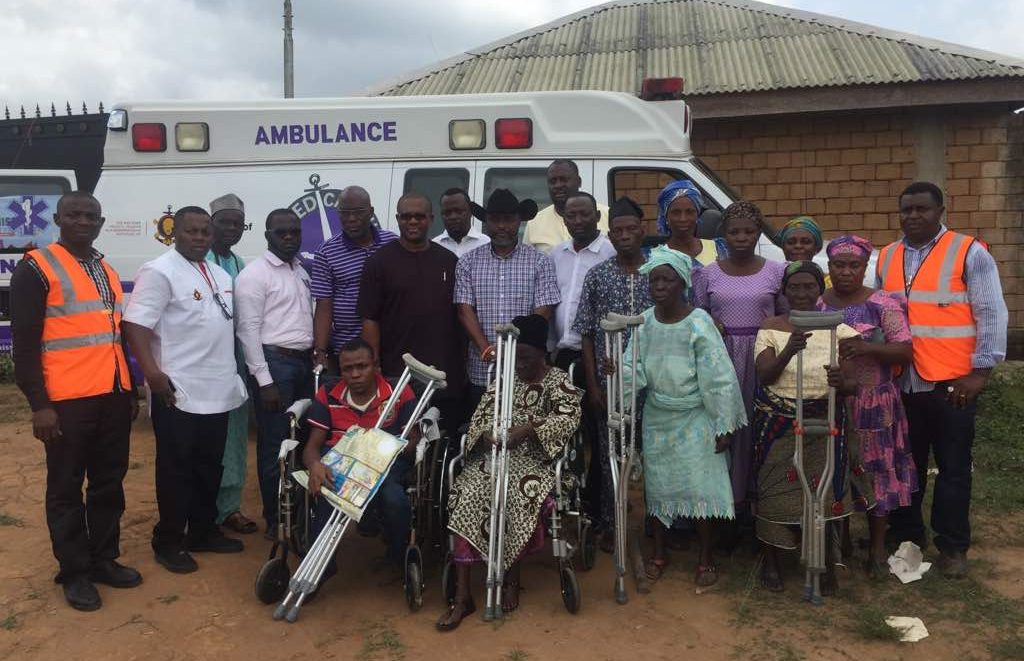 The mission was flagged off by the president of NAS Barr. Authur Boje. As expected it was a sight to behold.
•A total of 256 Persons
( 27 Adults Male, 98 adult Female, and 131 Children) were attended to spanning over 6 hours.
Diseases treated were as follows:
Epilepsy 1
Diabetes 18
Hypertensive Heart Diseases 33
Malaria + associated minor ailment 86
Post stroke complication 2
Long standing polio limb deformity 1
Chronic Stress Syndrome 18; all presenting solely or as a combination of 2 or 3 of these ailments .
3 Surgical Cases ( hernias) were seen and were Referred to Ijebu ode General Hospital for surgical intervention, with a desire to follow up and assist them financially to undergo the surgery.
12 person were screen for HIV of which all were negative.
27 person had no specific ailment. 57 received corrective eye glasses while 88 had insecticide treated mosquito nets donated to them. All the children present were dewormed.
Highlights of the Ilodo mission was the presentation of wheelchairs and crutches to all the physically challenged.
Special thanks to Barrister Bayo Oshikomaya, the Chairman of the Ijebu East Central LCDA For donating 2 plots of land to us in appreciation to this gesture, for the building of our permanent branch office in Ijebu ode.