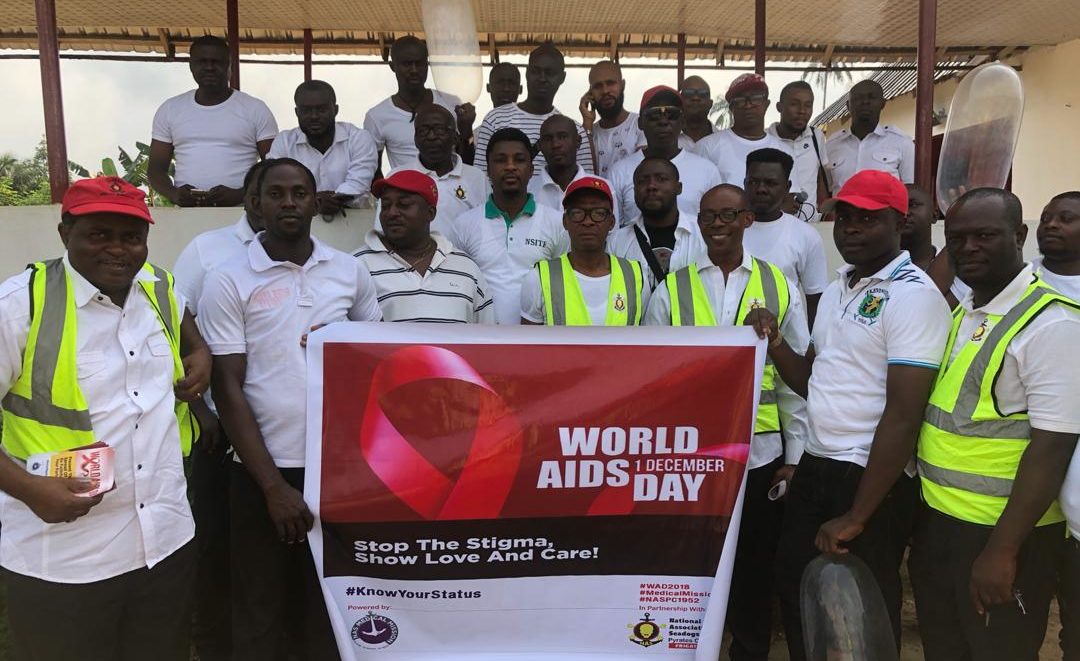 Marking the 30th World Health Organisation (WHO) designated international day– World Aids Day (WAD) to raise awareness of the AIDS pandemic, members of the National Association of Seadogs (Pyrates' Confraternity) – NAS/PC joined hands with the Joint United Nations Programme on HIV and AIDS (UNAIDS) and other NGOs registered under the United Nations Economic and Social Council (ECOSOC) to mark the December 1st event across the 56 Chapters of the Association.
As part of the events marking the World Aids Day, some chapters of the Association organised "Street Campaigns" to educate Nigerians and the general public on the importance of the 2018 WAD theme – "#Know your status", as well as hosted educative seminars at Anchor Points and also deployed the services of healthcare professionals to carry out HIV Screening tests for those interested in knowing their HIV status.
In Lagos State, Hawkins Deck (Alimosho Chapter) took to the streets in a road walk to share fliers and counselled their immediate community on the inherent dangers of HIV/AIDs and the negative societal impact of stigmatisation of people living with HIV/AIDS. The Bayelsa State Chapter of NAS/PC also organised an early morning sensitisation and awareness programme at the Kpansia Community Market in Yenegoa before hosting the general public to an HIV/Aids sensitisation lecture and HIV test for members of the public. There was a massive turn out of people in Calabar in response to the Frigate and Jokaina Chapters' joint street campaign, whilst the Uyo and Aba Chapters educated the public on the Aids pandemic, availability of treatment and the importance of knowing your status. The Abuja Metropolis Chapter of the Association took a "hike for a cause" to mark the day which was followed by a public lecture and screening at their Anchor Point.
Beside the street campaigns, most of the Association's chapters hosted public lectures on the scourge of the HIV virus and offered HIV screening tests to members and the general public, free of charge.
#Knowyourstatus
#NASWAD2018
NAS MEDICAL MISSION